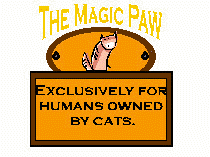 WELCOME TO THE MAGIC PAW
(the official page of the cats' conspiracy to dominate the Universe)
This page is in a constant state of transformation, so put this on your bookmarks and come back often. And another thing, any suggestions are more than welcome. We need your suggestions!!! E-mail me
Now, follow thy path...
(Not all links are working...till now only the astrology and mythology are working... the others will come soon.)
The C.A.T.S.' Conspiracy against Jerry and All of his Kind
Give your Cat some of the Fame he/she Deserves
Everything changes and is
in a perpetual state of construction. Nothing is final.
Completion is yet to be attained.
© Michael Pio Deguara 1997